This week I'm starting to get that urgency that you get during the holiday season, you know where it seems there is so much to do, in such little time, yet you still want to soak it all in somehow? I'm seriously anticipating that whole week off from work I'm taking for Thanksgiving, as well as having all the pumpkin pie I can eat! Gotta love this time of year! So today I've got some festive favorites to share with you and the
Five on Friday
ladies!
ONE: My early Christmas gift.... a Big Girl Camera
My amazing, thoughtful husband gave this baby to me as an early Christmas gift so I could learn how to use it and take photos while we're visiting my family for Thanksgiving. It means so much to me to be able to take nice photos with them since I won't be there for Christmas! That means this weekend I've got some light reading with oh... 300 pages... of the manual, plus all of the photography tutorials I've been bookmarking online! Did I mention how much I love my husband, and not just for his impeccable gift giving abilities?!
I've practiced taking photos (and love it so far) but haven't learned how to get them on my computer yet. If any of you have a DSLR, what are your favorite lenses or accessories? I'm thinking a remote, tripod, and definitely a camera case for now.
TWO: Hot Chocolate
One of the first photos I saw on Pinterest was
this
hot chocolate. All you have to do is spread cool whip cookie sheet or any small pan, freeze it, then cut out with a cookie cutter in a fun shape. (I lined my pan with parchment paper first so I could lift the cool whip out of the pan and cut it more easily) Ruby and I had a lady/pup date this week and we sipped on some hot chocolate while the dogs played. Perfection!
THREE: Christmas Purchases
I've made a couple purchases for this year's Christmas decor, and I'm pretty.darn.excited to start decking our halls with it! The mistletoe ball and fair isle wrapping paper are from Target (of course). I don't think I'll be able to hold off with the Christmas decor much longer, I think it would be so fun to come home after Thanksgiving to a festive house! Also.. White Christmas by Otis Redding, which is possibly my most favorite Christmas song ever next to Baby It's Cold outside from the Elf Soundtrack, randomly played on my iPhone even though I haven't transferred my Christmas playlist over yet. I think it's a sign...
FOUR: Thanksgiving Hostess Gift
I'm planning to put together a little hostess gift for our Thanksgiving dinner hosts. Anything beyond the booze isn't really necessary if you're eating with family, in my opinion, but I decided to get creative with it anyway. The goodies will include: a bottle of Pinot Noir with a DIY chalkboard label (obviously since that is in the photo), some of my favorite
pumpkin granola
, a cute wine stopper, and a festive kitchen towel. Easy to put together, easy on the wallet, and a great gift for anyone.
FIVE: Thanksgiving Link-Up next week!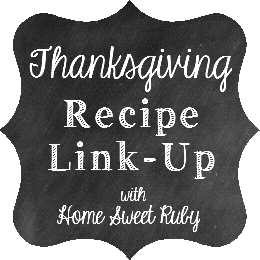 I'm so excited to host my first link-up next week! I hope you will all join me in sharing your favorite Thanksgiving recipe on Tuesday, November 12th! I'll also have the link open for a couple of days so you can join later if you forget. I'm really looking forward to seeing everyone's favorite recipes and maybe adding a few new ones to our menu this year! You can either save the button above or wait until the day-of, where I'll have the html code for you.
With all of that excitement this week... we have zero plans for us this weekend, which is awesome. Anyone have anything fun going on? I hope you have a good one!