Happy Thursday, friends! This week I think I've been more exhausted than I ever was, even in the first trimester. I hope its just from two weeks on-the-go and not a hint of some sort of sickness to come!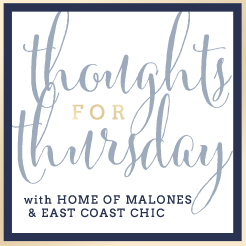 Ever since we found out about this little babe I'm cooking, I've focused on buying him the things he will need. You know... like adorable baby jeans, the cutest teethers around, and a pricey "coming home" outfit that will likely be ruined with a diaper blowout (because we certainly won't know what the eff we're doing yet). You stop buying for yourself and forget about all those things you wanted to decorate the house.
So today I'm sharing a few of the things on my wishlist, 99% of which are not baby-related. Because mama needs a little love too, right?
I definitely don't need a new coat here in Charleston but if I were to buy one, this would be it. I love the high collar and the green color is completely opposite of every other winter coat I own.
I've been wanting a bar necklace for a while, I love seeing them layered with other necklaces. I'm not sure I can pull off the layering thing but I can't wait to order one of these with Rowan's initial!
Elbow pads and stripes in one perfect sweater. Enough said.
I realize I'm a little late to the game on the booties trend but I'm ready to dive in if someone wants to buy these for me. Any takers?
Why do these things have to be so expensive? You're killing me RH, with all your cute, overpriced baby things. If anyone has seen a knockoff of these baskets, please share!
My obsession with throw blankets continues with this number. I mean, it doesn't get any more cozy than that!
What are you loving for this Fall and Winter? Anything I need to add to my list?!